Top 5 Most Memorable Grammy Awards Moments:
The 59th Annual Grammy Awards – the biggest award show in entertainment history did not disappoint this past Sunday, February 12th on CBS network.
Thousands of celebrities and royal guests gathered at the Staples Center, in Los Angeles, CA to celebrate and recognize the hard work of those in the music business. Considering the prestigious nature of the crowd that attends this event, there are undoubtedly going to be awe-worthy moments that grasped the crowds' attention!
 Here are the top five moments: 
1. Proud Family Alert!
There's no surprise that Jay-Z, and daughter Blue Ivy were caught cheering on their idol, Beyoncé, after she performed "Love Drought" and "Sandcastles" at the award show. This pregnant-soon to be mama of three performed a breathtaking set, and many viewers proclaimed her debut as "magical." With such a strong support system by her side, there's no wonder why Queen Bey was nominated for nine awards.
2. The Pilots Were Pant-less!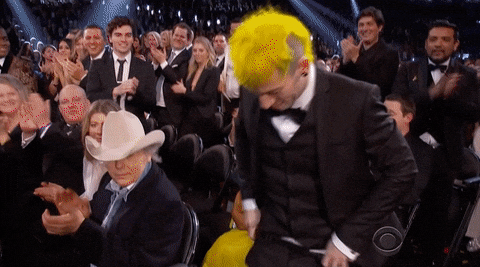 Upon winning the best pop/duo group performance award for their new song "Stressed Out," Twenty One Pilots accepted their award in a rather bizarre way that turned heads throughout the crowd. Although it is 2017, and we shouldn't put anything past the celebrities, the two men removed their pants while walking up to the stage; revealing their whitey-tighties! According to the duo, they were watching the Grammy's two years ago, and agreed to go pant less if they ever won a Grammy themselves; low and behold they were not kidding!
3. Adele's Emotional Do-Over
Upon taking the stage to perform the late George Michael's 1996 hit, "Fastlove," Adele was overcome by emotion. She held herself to high expectations, because she didn't want to disappoint Michael or his fans. After the first quarter of the song, Adele stopped briefly to gather herself, and then apologized after asking to start the song over again. "I can't mess this up for him…I'm really sorry." By the end of the performance Adele was in tears, and looking rather disappointed in herself, although she performed the song flawlessly the second time around. Fear not Adele, we all make mistakes, and you have the voice of an angel.
4. Love Between A Dynamic Duo
Adele and Beyoncé took the crown for the most nominations at the 2017 Grammy awards show. Each of the ladies were nominated for album of the year, and Adele was deemed victorious. With utter shock, she took the stage and graciously accepted the award. Fighting back tears, "I can't possibly accept this award, and I'm very humbled and very grateful and gracious but my life is Beyoncé, and the album to me, the Lemonade album, Beyoncé, was so monumental, and so well thought out," Adele stated. The two queens shared an emotional moment, and Adele continued to boast about Beyoncé's talent, even going as far to say, "I love you. I always have. And I always will." Not only did she give this beautiful speech, she then moved on to break her trophy IN HALF so she could share the award with Bey. Talk about empowering!! That's true friendship right there.
5. Bruno's Tribute to Prince
With emotions running high throughout the entirety of the 2017 Grammy's, Bruno Mars may have had the most notable performance of the night. In a beautiful tribute to the late singer Prince, Bruno gave it his all and covered the song "Let's Go Crazy." Performing the act with such high energy, and utter class, there's no surprise that he is such a popular, well respected star!
With all of the drama, and intense emotion at the 2017 Grammy's, we cannot WAIT to see what next year has to offer. Until 2018!